The magical entry of Queen Padmavat for dancing to the rhythm of 'Goomar' is a visual treat to us.
it is not just the ambiance of the song, but the royal outfit- 'Lehenga'  that still lingers in our eyes.
With customisable skirt and distinctive blouse patterns, Lehenga is one of the oldest traditional wear that is still leading the ethnic trend.
In this blog, We will take you through the different types of lehenga styles, how to choose the perfect lehenga based on your body type and some tips to win your lehenga style game.
What are the different types of Lehenga styles?
Circular/ Flared Lehenga
Mermaid/ Fishtail Lehenga
Paneled Lehenga
A-Line LehengaT-shirts
Sharara cut Lehenga
Straight Cut Lehenga
Lehengas with a Jacket
Multi-Layer Lehenga
Circular Lehenga
This is the most adorable style that recreates the Bollywood Divas' in slow motion to the rhythm of romantic BGM.
Is it not the reason why we look for Lehengas in the first place?
The abundance of fabric sewed to have a very wide base area makes it perfect for a happy flaunt. With heavy stone works, you can have the extra fun of chiming as they move around.
As it is Suited for all body shapes, Walk the ramp of happiness in your favourite celebration look to any occasion of joy.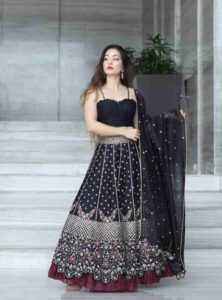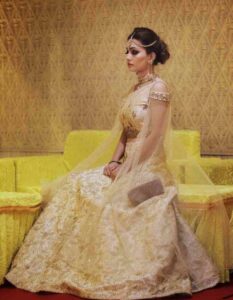 Mermaid/ Fishtail Lehenga
What are you waiting for? Flash your enthralling beauty in Mermaid cut lehenga which is sewed with tight uppercut and flares as it reaches the base, replicating a fishtail.
The difference between fishtail and mermaid cut is a thin line.  Fishtail lehenga has smaller flares below the knee, wherein mermaid cut broadens out somewhere above the knee joint, letting out our childhood fantasy to life.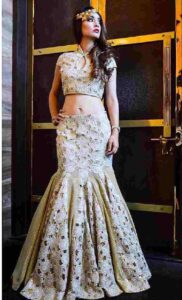 It is best suited for tall and hour-glass structured girls to flaunt their curves.
Paneled lehenga
Wouldn't it be great if you could wear your favourite colours without having to choose between them? Stay tuned with ethnic vogue and have fun wearing a paneled lehenga skirt.
As the name suggests,  cut pieces of vibrant colors and fabric are sewed alternatively letting out the exuberance of the occasion. Paneling is done with the same hues as well. The alternate stitch makes the skirt base spread out yet giving you a  slim look.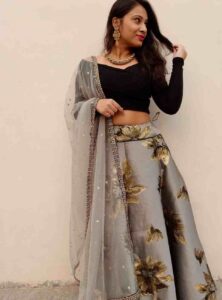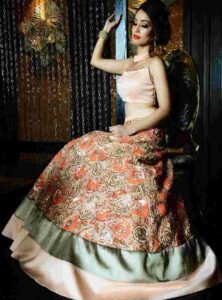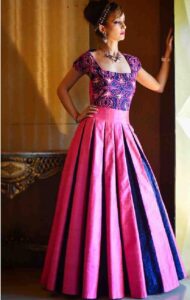 Special stone or thread works on paneled lehenga will definitely bring you to the spotlight than ever in a 'Sangeet'.
A-Line Lehenga 
Do you want to settle for less splayed skirts yet wish for a regal look? Then pick the A-Line lehenga cut.
An elegant and sophisticated A-Line lehenga designed with jewel or thread works at the waistline or base will make sparkle amidst the crowd on any occasion.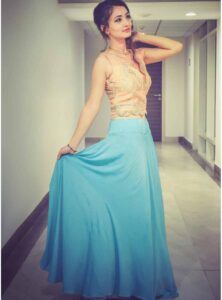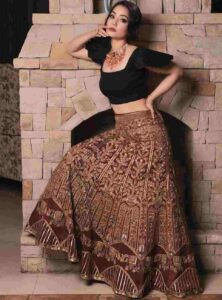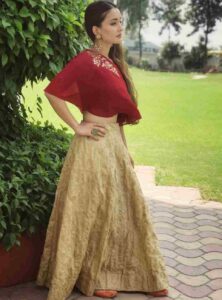 Opt for pastel hues and ornamentation throughout the skirt fabric, also match your lehenga with a dupatta that has rich designs and a blouse of your body preference to enrich your look.
Sharara cut Lehenga
Not a fan of short blouses?
You can style up with a sharara lehenga -The ensemble with a top resembling a Kurti and a floating stretched-out trouser like a palazzo.
Sharara lehenga has an extensive design preference from sleeve type to heaviness in work. You can select between tops with a ¾th or full sleeves, with or without slits, heavy or light work on neckline, and many more to match up your occasion.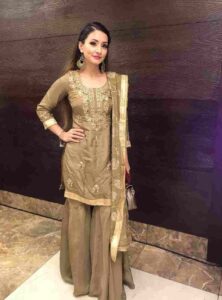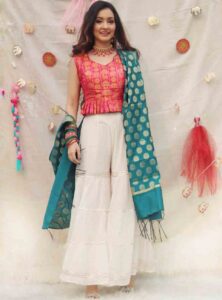 Sprint joyfully in a light patterned bottom paired with an intricate designed top and dupatta at a wedding or a party.
Straight cut lehenga
The straight-cut lehenga is one of the most versatile designs that suit almost all body types.
The less flared stitching style streams along the body shape to give you a stunning look.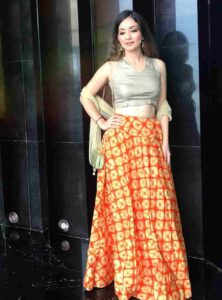 Rich sequin works that run vertically along with the skirt or around the baseline are a seamless selection that enriches your imperial appeal.
Lehengas with Jacket
Are you the jazzy dame, who wants to run around without dragging your dupatta? Then embrace the new Jacket- trend that has created a massive milestone in refurbishing the ethnic look and gets your hands free from dupatta.
The half-collared, long jackets with full sleeves are surely a feast for the eyes on a wedding. Also, Short jackets with a 3/4th sleeve are also a choice that will not let you down.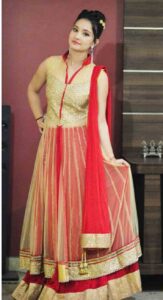 You can go for a light-hued blouse and choli, yet look stunning with a fully worked-up jacket on your sangeet.
Multi-layer Lehenga
Who doesn't like flowers? Not to mention the queen of flowers – the rose. Adorn yourselves in a multi-layer lehenga and unleash the queen in you just like the rose petals.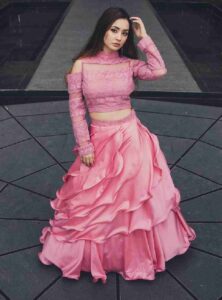 The new satin/silk fabric in the lehenga trend, stitched on multiple layers to replicate a blossom gives you a breathtaking look to any gathering or at a cocktail party.
What fabric and colour should I choose for my lehenga?
Lehengas are usually stitched on light fabrics like chiffon, silk, or georgette. Velvet, crepe, and mesh are other materials that entered the world of lehenga in recent times.
Choosing the right color on the right fabric is the deal maker.
Go for royal colors and pastel shades in velvet fabric with floral embroideries or sequin or stones embellishment for a wedding ceremony. You can be both trendy and traditional to your friend's wedding as the Benaras brocade has found its place in modern Lehenga styling.
If you are in for a joyful occasion treat yourself with vibrant colors and garland patterns hemmed on Crepe, net, or mesh material. Pastel shades on silky fabric are great for evening parties.
Which type of lehenga is best for me?
Generally, the straight-cut lehenga is an obvious choice for every body type. In the same way, if you have an hourglass body then you can pick up any lehenga style without any doubt. You can customize the length of sleeves to be 3/4th, full, or even sleeveless, irrespective of your body type.
Here are some tips to choose the right lehenga based on your body type
Apple-shaped body – Circular lehenga with full blouse.
Hourglass or X-shaped body – Mermaid / Fishtail Lehenga with short/long blouse
Pear / bell shaped body – A-line / Panel lehenga
Ruler/banana-shaped body – Fishtail lehenga / circular lehenga with short blouse. 
How can I look attractive in a lehenga?
To amplify your lehenga look, pair it with an ornamental blouse and a dupatta. Look for soft and light-textured dupattas with subtle or detailed craftwork hemmed on them. And don't forget to add-on yourself with a nice pair of jewelry that lets out your majestic charm.
How can I make my lehenga fluffy?
The ethereal look of your desi version of the Cinderella gown is made by stitching soft fabrics in multiple layers. The Cancan net fabric stitched underneath the real costume is the secret to make your lehenga fluffier.
You can sew a layer of cancan fabric or simply purchase a ready-made easy-to-wear cancan underskirt and give your old lehenga the new look of puffiness.
How to know my lehenga size?
For a ready-made lehenga, be sure about your waist and hip size to make the right choice. If you are tailoring your ensemble, then the liberty to customize the lehenga skirt's length is all yours, allowing you to design even a trail lehenga.
Here is a sample chart on the Lehenga size chart. But do not consider this universal as it may vary with brands.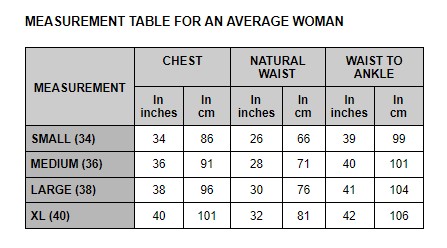 It is always better to get your measurement from a professional before the purchase.
What is the normal lehenga length?
The conventional choli length is between 42- 44 inches, which varies complementing the waist size. The length is measured till ankle-length and may vary for trail lehenga or if border designs are hemmed along.
Ready for the Lehenga swirl?
So, now that you know the various types of lehenga styles and tips on how to wear it, get ready, put it on, and vaunt your inner Queen. Share with us your next lehenga experience in the comments below.